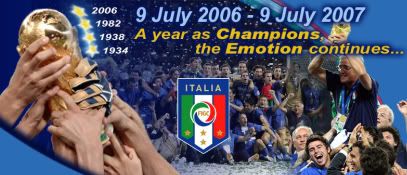 A year has gone by since that fantastic night in Berlin, but the emotion continues…





Twenty-five years after the 1982 World Cup win in Spain, one year ago today - July 9 - the Azzurri team of 2006 triumphed beating France after a dramatic penalty shoot-out and winning their fourth World Cup title.

In the hearts and eyes of millions of fans there are still the incredible images of the great celebrations that swept the entire country as they celebrated the 23 Azzurri World Champions, their coach - Marcello Lippi, and the entire Italian delegation.

Television channels all over the world broadcast (and will air again in this period and until 2010) the images after the match and the welcome that the national team had in Rome, in the streets of the city, from the airport of Pratica di Mare, to the popular districts, all the way to downtown Rome, with the unforgettable celebrations at Circo Massimo.

The fourth title for Italy arrived ahead of the most delicate and troubled season for Italian football of the past years: a limpid success, searched for with willpower and determination by Lippi and a team that with their seriousness, compactness, will to redeem themselves and show what they were really worth during the entire tournament contributed significantly to relaunching the image and prestige of Italian calcio.
Thank you Azzurri, with the same affection and the same emotion of one year ago.
A World Cup year, Champions forever!

ONE YEAR ON AS CHAMPIONS: [HOME] - [PICTURE REVIEW] - [VIDEO REVIEW]